What is a Labour Licence?
The importance of labour licence for contractors can be seen in the The Contract Labour (Regulation and Abolition) 1970 Act, It applies to any establishment in which twenty or more workmen are employed on any day of the accounting year as contract labour. It applies to any contractor who employs or who employs twenty or more workers on any day of the accounting year. Or in simpler words any contractor having 20 or more than 20 labourers working under him, has to apply for "Labour Licence". Recently in Bihar the limit of the working labourers has been increased from 20 to 50. Read this blog to know more about labour licences for contractors.
Documents required for petty contractors and Principal employer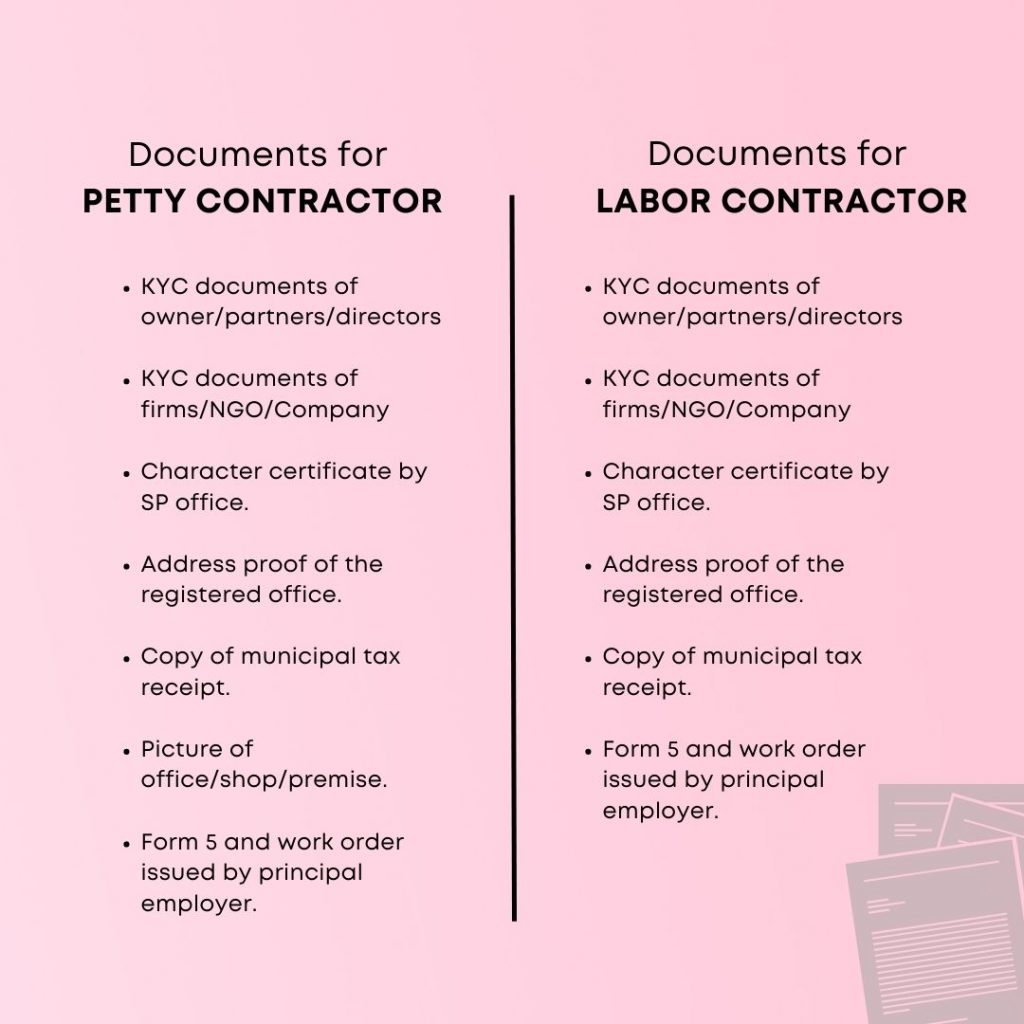 Since the required documents vary from state to state due to the nature of work and other formalities, you should also prepare the documents given below :
Copy of the report showing the legal status of the firm.
Photograph of the document showing allotment of PF Code No.
Copy of receipt/cover note/insurance policy received.
Copy of challans showing remittance of security deposit.
The licence fee to receive the labour licence.
Validity of Labour Licence for contractors
As you know there are two types of labour licence issued, one for the petty contractor and other for the principal contractor. The Petty Contractor has to renew his licence every year, but in the case of principal contractor, the validity of the licence is till the completion of the project.
How to apply for Labour Licence
There are two ways for applying for a labour licence, One is the offline mode and the other one is Online mode since many states now accept applications on their government authorised e-portals. If you want to apply Online then you need to go to the official e-portal of your state labour office and then you have to register yourself firstly through your mobile number and then after registering you can proceed forward and continue to submit your application of Labour licence. If you want the list of website links of state wise Labour office then you can check this blog which contains list of websites of labour offices.
If you want to apply through offline mode, then you have to simply arrange all the documents required and after that you have to visit the state labour office of your state and then manually you have to submit your application.
Checkout more about labor licenses in this video –
Last thing before you leave us, If you're a contractor and you manage many projects at one go, then we have free SaaS tool for you contractors – Onsite App, Construction Diary
Do share and leave your comments in the comments section.