Documents Required for PWD – Class D Contractor License & Registration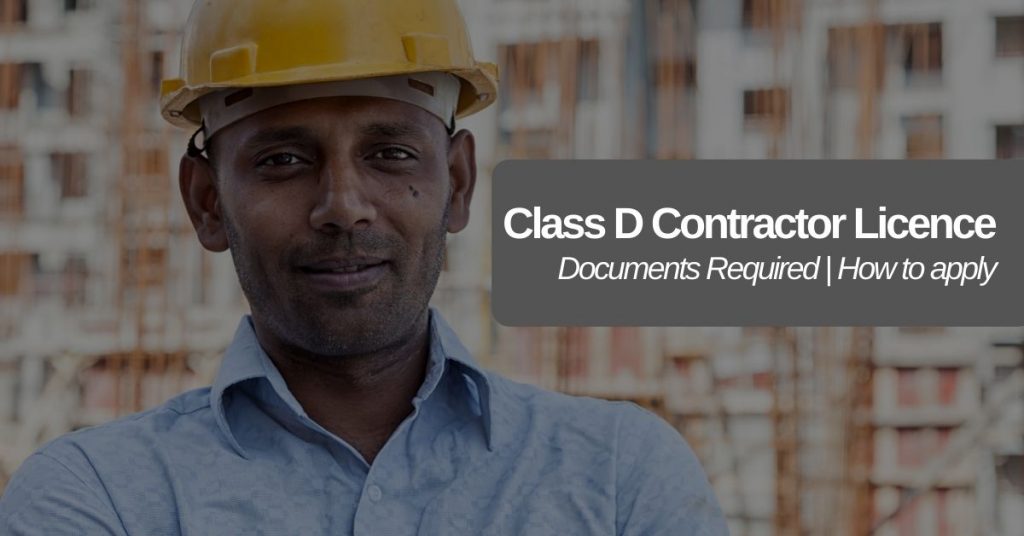 Work Limit & Eligibility Criteria for D Class Contractor Registration
Class D License is the first license a contractor with no prior experience should apply for. The primary significance of a Class D license is that those contractors who wish to work with PWD but do not have much experience can apply for a Class D license and work on small government projects. Class D PWD License does not have any work experience criteria. The project limit of a Class D license is up to Rs 15 Lakhs.
Documents Required for Class D Contractor Registration
GST Number – Keep in mind that you have to apply for a GST number with the name of your firm/company.
PAN Number– You should apply for a PAN number with the name of your company/firm.
Address Proof -For address proof, you can use an Electricity bill, Water tax bill, and in some cases, some states also accept the rent agreement.
Non-Judicial Affidavit– A Non-Judicial Affidavit is required to prove the employment of technical staff working under you.
Experience Certificate, aka Work Knowledge Certificate– An experience certificate is usually required in the registration process of the upper-class contractors, but in some states, an experience certificate is needed even in Class D contractor registration. You can obtain this certificate by contacting any senior contractor and asking them to give a written recommendation for you and your work. Another thing here is that this certificate is not required if you've done BTEC or any other civil engineering diploma.
Current Account Details– You have to submit the current account details. One important thing here is that you must show pictures of the office premises while applying for a current account for your firm or company. Make sure that the office premise has a signboard outside the premise. The sign board should include your firm's name with the GST number.
Character Certificate– You are required to submit a "Character certificate. If you've BTEC or any other civil engineering diploma, you can get this character certificate from your college. If not, you can apply and obtain this certificate from your "state's e-district portal" or apply it offline at your nearest Jan Seva Kendra.
Bank Solvency Certificate or Haisiyat Pramaan Patra– The bank's solvency certificate is a financial document. It is used to check the financial soundness of the person. Haisiyat pramaan patra is a legal document that is issued by the state government's revenue department. Haisiyat pramaan patra is used to verify information about an individual's properties and other assets.
Also read
Documents Required for Haisiyat Praman Patra | How to Apply
Documents required for Bank Solvency Certificate
Other Important Documents
Last 3 years' Income Tax Return plus 2 Passport size pictures
A security fee of Rs 50,000 is required.
Special Note- Always keep in mind that these documents and security fees change from state to state. Every state has its own rules and regulations. Always cross-check with your state PWD department before applying.
How to Apply for D Class Contractor License
There are two ways in which you can apply for any PWD License including Class D license.
Online Mode
You can apply for a PWD contractor license by registering yourself at the official web portal of the PWD department of your state. After registering, you'll be able to apply for the license under the "contractor registration" tab. Make sure that you have scanned copies of all the required documents.
Find the Website of PWD Department of your state here – PWD Contractor License & Registration | Apply Online
Offline Mode
You can apply for the license offline by reaching out to the head PWD office of your state. Look out for specially appointed clerks to help contractors register for a permit in the office.
You can find the office address of the PWD head office here – State-Wise PWD Office Address | Find your nearest PWD Office
Conclusion
In summary, the Class D License acts as the starting point for individuals aiming to take part in modest government projects facilitated by the Public Works Department (PWD). This license offers a valuable opportunity, especially for those who lack prior experience in this field. It doesn't impose any specific work experience prerequisites, making it accessible to newcomers. With a project limit of up to Rs 15 Lakhs, the Class D License creates a pathway for entry into public infrastructure initiatives.
Popular FAQs on D Class Contractor License
Q1: What is a Class D License for contractors in India?
Answer: The Class D License serves as the first step for individuals who want to work on smaller government projects with the Public Works Department (PWD), even without previous experience.
Q2: Who can apply for a Class D License?
Answer: Anyone interested in taking part in minor government projects through the PWD can apply for a Class D License. It's designed to be accessible to newcomers in the field.
Q3: What's the project limit allowed under a Class D License?
Answer: A Class D License allows you to work on government projects with a value of up to Rs 15 Lakhs, making it suitable for modest-sized undertakings.
Q4: Which documents are required for applying for a Class D Contractor License?
Answer: To apply for a Class D Contractor License, you'll need important documents such as your GST number, PAN number, address proof, non-judicial affidavit, and character certificate, among others.
Q5: How can I apply for a Class D Contractor License?
Answer: Applying for a Class D Contractor License can be done online via the official PWD department portal by registering and submitting scanned copies of necessary documents. Alternatively, you can opt for an offline application by visiting your state's head PWD office and seeking assistance from clerks. Always ensure to check the specific requirements in your state before applying to ensure a smooth process.
Learn more about Class D contractor license with this video
Apply for different Licenses
Key Govt. Department Websites

People also search for: contractor licence, contractor license, d class contractor registration, c class contractor work limit, pwd contractor class limit, online contractor registration, contractor licence apply, class 3 contractor work limit, b class contractor work limit, d license