Labour License: Apply Online for Your State | State e-Portal Links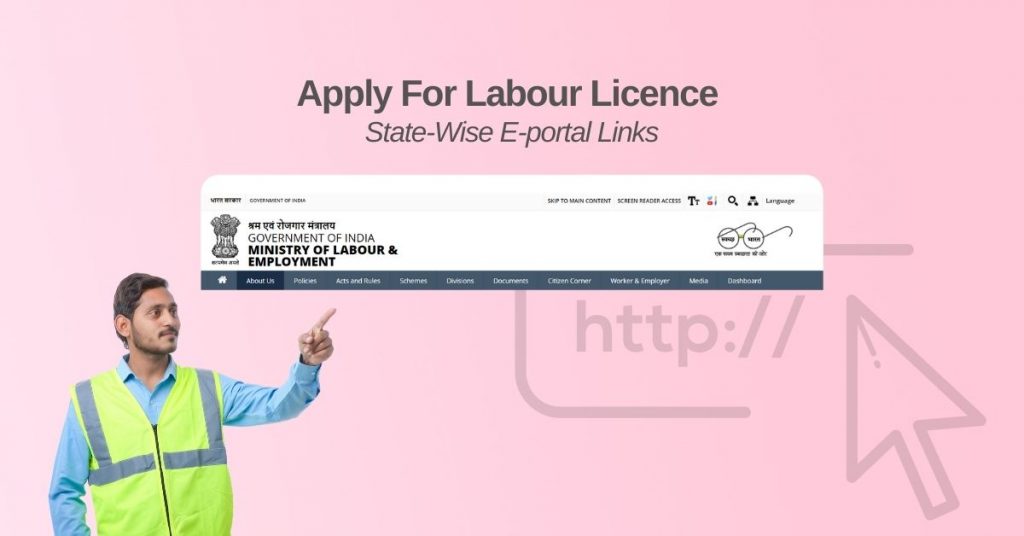 According to The Contract Labour (Regulation and Abolition) 1970 Act, It applies to any establishment in which twenty or more workmen are employed on any day of the accounting year as contract labor. It applies to any contractor who employs or who employs twenty or more workers on any day of the accounting year. Or in simpler words, any contractor having 20 or more 20 laborers working under him, has to apply for a "Labour License". Recently in Bihar, the limit of working laborers has increased from 20 to 50. To get a Labour license you can apply online through your state labor department website.
Statewise Labour Department Websites
These are the links of government recognized web portals of Labour offices, where you can easily apply for labour license.
Works of Labour Department
In India, the Labor Department is responsible for overseeing and regulating labor-related matters to ensure fair treatment, safe working conditions, and compliance with labor laws. The Department of Labor and Employment, both at the central and state levels, governs labor-related policies, laws, and regulations.
The Labor Department in India has several key roles and responsibilities
Policy Making: They create and implement policies related to labor welfare, employment, industrial relations, and social security.
Laws and Rules: They establish and update labor laws that cover areas like minimum wages, working hours, safety, health, and workers' welfare.
Enforcement: They ensure that individuals, employers, and organizations follow labor laws through inspections and audits.
Employment Promotion: The department encourages job creation, skill development, and employment opportunities through various programs.
Worker Well-being: They implement schemes for workers' welfare, including housing, healthcare, education, insurance, and pensions.
Managing Industrial Relations: They help resolve disputes and foster cooperation between employers and employees.
Labor Market Research: They gather data on labor market trends, employment patterns, and socioeconomic factors affecting workers.
How to get Labour License?
Regarding a "labor license" in India, this typically refers to a license or registration that contractors or employers need for certain businesses or projects that employ a specific number of workers. This is mainly regulated by the Contract Labor (Regulation and Abolition) Act, 1970.
Reasons contractors require a labor license:
Compliance: To follow labor laws and regulations related to contract labor, ensuring fair wages, working conditions, and benefits.
Worker Protection: To safeguard contract workers' rights and welfare, including safety measures and proper facilities.
Government Oversight: It allows the government to monitor the employment of contract workers and ensure compliance with standards.
Steps to obtain a labor license:
Apply: Contractors submit an application for a labor license to the local Labor Department or designated authority. You can also apply through the websites mentioned above.
Document Check: Relevant documents, such as the contract agreement, are reviewed for compliance with labor laws.
Inspection and Approval: Labor inspectors may visit the site to ensure compliance with the law. Once approved, the license is granted.
Renewal and Compliance: The license is valid for a specified period and must be renewed as required. Contractors must adhere to ongoing compliance rules.
Read more about Labour License here in this article
Popular FAQs on Labour License
Q1: How can I apply for a labor license as a contractor in my state?
Answer: To apply for a labor license in your state, reach out to your local Labor Department or the assigned authority. They will provide you with application forms and guide you through the process.
Q2: What documents do I need when applying for a labor license?
Answer: While document requirements can vary by state, you typically need to submit documents like your contract agreement, proof of identity, address, and any other documents specified by your local Labor Department.
Q3: Is there an inspection during the labor license application process?
Answer: Yes, labor inspectors may visit your workplace to ensure you follow labor laws and safety standards. This inspection is a crucial part of the application process to ensure worker welfare.
Q4: How long is a labor license valid, and how do I renew it?
Answer: A labor license is generally valid for one year, but this can vary by state. To renew your license, reapply before it expires, and complete the necessary inspections and document checks.
Q5: How do I find my state's Labor Department website for labor license applications?Answer: To locate your state's Labor Department website for labor license applications, refer to our article, where we provide a list of state-specific websites. Follow the link for your state to access detailed instructions and online application forms.

Apply for Different Licenses
Key Govt. Department Websites
People also search for: labour contractor licence apply online, why labour licence is required, how to get labour licence, labour contract licence, labour license documents, what are the documents required for contract labour licence, labour contractor licence documents Maharashtra, contract licence, labour licence documents, labour licence documents required, labour contractor licence documents, required documents for labour license, labour license documents required, labour license required documents