Important Types Of Contracts In Construction Industry Every Contractor Should Know
A construction contract is a legal document, usually between a contractor and an owner. In the construction industry, different types of contracts are used for different kinds of work or services.

Now you guys must be wondering what does a construction contract contain?Well, construction contracts specify the terms and conditions of a construction project or service, such as the scope of work, project guidelines and conditions, any compensation payment, if any, a Proper schedule for the execution of works of that project, and penalties, if any, for the delay. They may also spell out the procedure for the distribution of compensation.
Here is the basic list of the items that are included in almost every type of construction contract
General Conditions
Special Conditions
Drawings and specifications
B.O.Q (bill of quantity)
Contractor bid


Types of Construction Contracts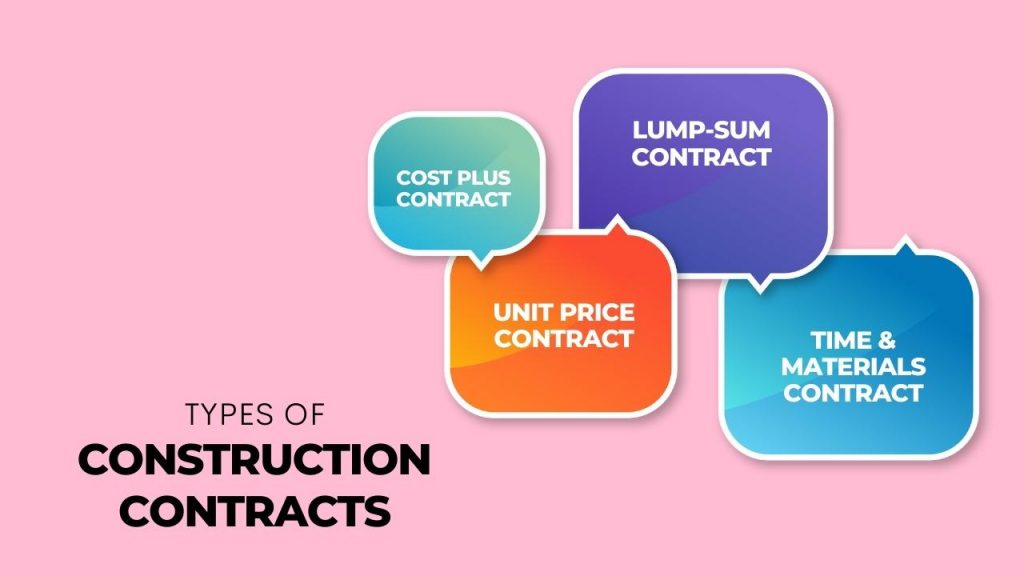 A lump-Sum contract is also known as a "stipulated sum contract," a construction agreement in which the contractor or builder agrees to complete the project for a price predetermined by both parties for that construction project.
Under a lump sum contract, the contractor or builder submits a total project price instead of bidding on a particular item or material. This sum includes the cost of work, general condition costs, and the contractor's or builder's fee.
In simple words, A lump sum or stipulated sum is simply a single amount of money for completing the entire scope of works that are identified in a construction project.
Second, comes the "Unit Price Contract," A Unit Price Contract is a type of contract based on estimated quantities of materials and their unit prices. In the price section, all the rates, such as hourly rates, rate per unit work volume, etc., are included. The contractor's overhead and profit are also included in the rate.
The third one is the "Cost-plus contracts." Cost-plus contracts are those which require the owner to pay for all project expenses. These expenses include material, workforce, etc. costs. In a cost-plus contract, the owner agrees to pay a percentage amount that covers the contractor's profit and overhead costs.
Time And Materials Contract
A time and materials contract is used when the project is open-ended, or its conditions are undefined. Time and materials contracts are used when an accurate estimate of the time and materials needed cannot be calculated.
A time and materials contract is also used in product development and other types of construction projects. A time and materials contract shows how the employer will pay a contractor for the time they spend on the project and the materials they use while executing the work of that project.
A contractor should always understand various construction contracts to decide what suits them and their construction projects. Construction contracts also help maintain clarity between the contractor and the owner and establish straightforward communication.
Try Onsite, #1 Tool For Site Tracking