Latest Detailed Price list for Building Materials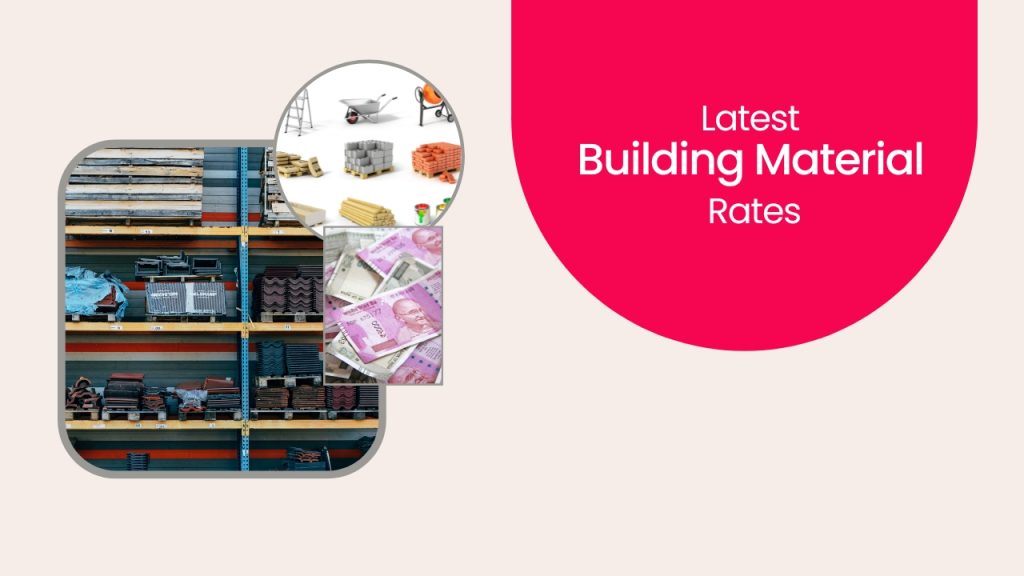 Building a structure requires a significant level of planning & budgeting. One of the most critical factors affecting a project's budget is the raw materials' price. Many building materials are available today, from roofing to the foundation and everything in between. In this blog, we'll provide a closer look at the price list for building Materials. Whether you're a homeowner looking to renovate or a contractor bidding on a new project, this information will better understand the costs associated with construction materials and help you make informed decisions.
Mostly Used Construction Materials & their Rates
The following are the most common and essential construction materials needed for building construction:
Cement
TMT or TMX Steel
Sand
Aggregate
Ready Mix Concrete
Bricks and Blocks
TMT Binding Wires
Painting
Plumbing
Electrical
Wood
Glass
Price List for Building Materials
Cement
Cement is the most widely used building material in the construction industry. Cement is a fine powder from limestone, clay, and other materials. Cement acts as a binding agent when mixed with water, sand, and Aggregate to form Concrete. The average price of cement ranges from Rs 320 to RS 450 per bag of 50 kg, and the approximate consumption of cement is 0.4 bags or 20kg per sqft of built-up area.
The following are the most common types of cement used in the construction industry:
Ordinary Portland Cement (OPC)
OPC 33 Grade
OPC 43 Grade
OPC 53 Grade
Portland Pozzolana Cement (PPC)
Rapid Hardening Cement (RHC)
The price of different cement companies is shown below for a bag of 50 Kg cement—the prices range from the minimum to the maximum, as seen in the table. The second table shows the prices of different types of cements.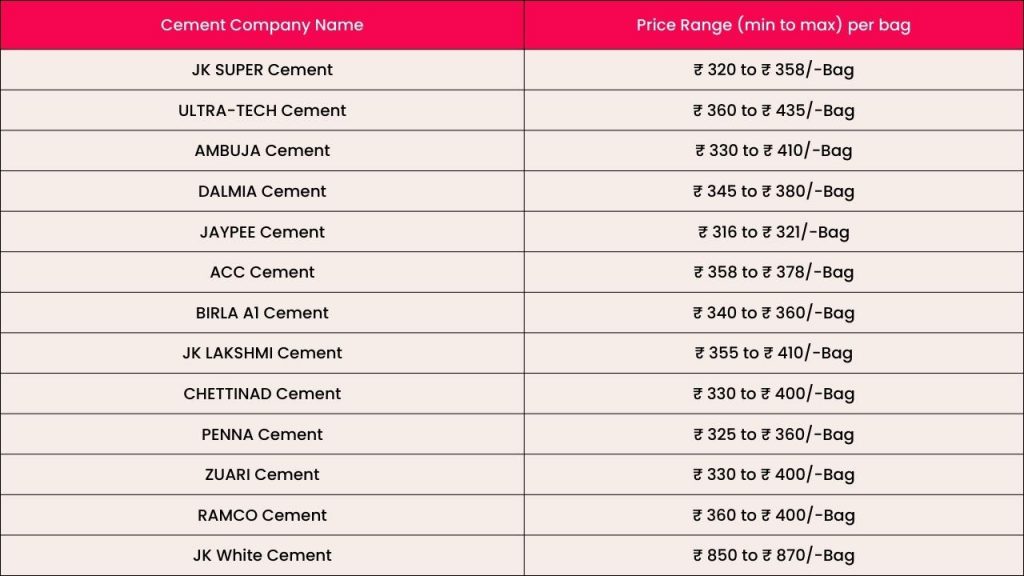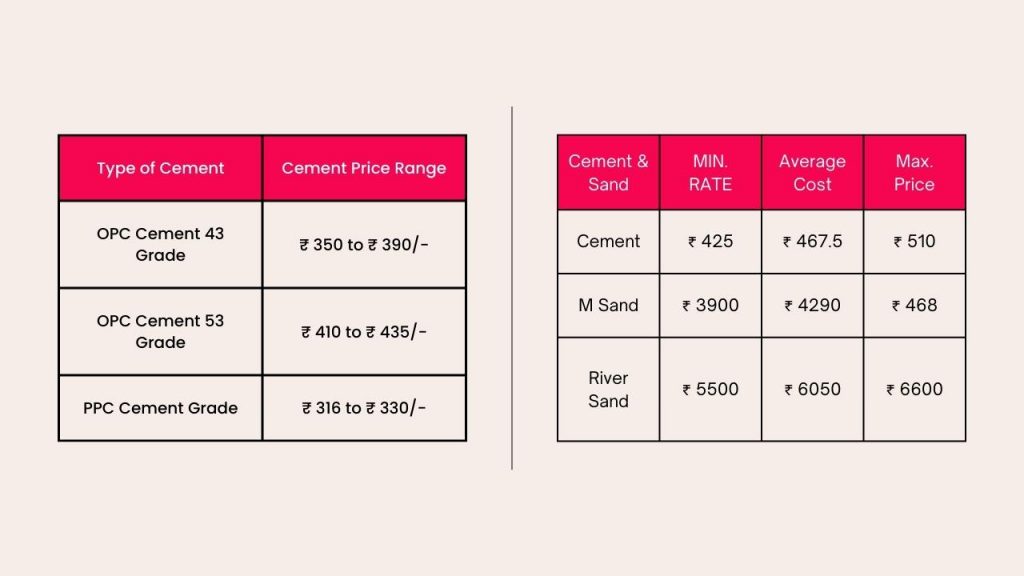 Ready Mix Concrete
Ready Mix Concrete is prepared in a factory using a standardized recipe and process. It differs from traditional Concrete, made on-site by mixing cement, sand, aggregates, and water. RMC is used for manufacturing Concrete above M20 grade of Concrete. It is used if the Concrete cannot be made at the site. The average price of RMC ranges between Rs 3000 to Rs 7500.
RMC price list for different grades of Concrete is shown here. The price of RMC concrete per cubic meter is shown in the table below.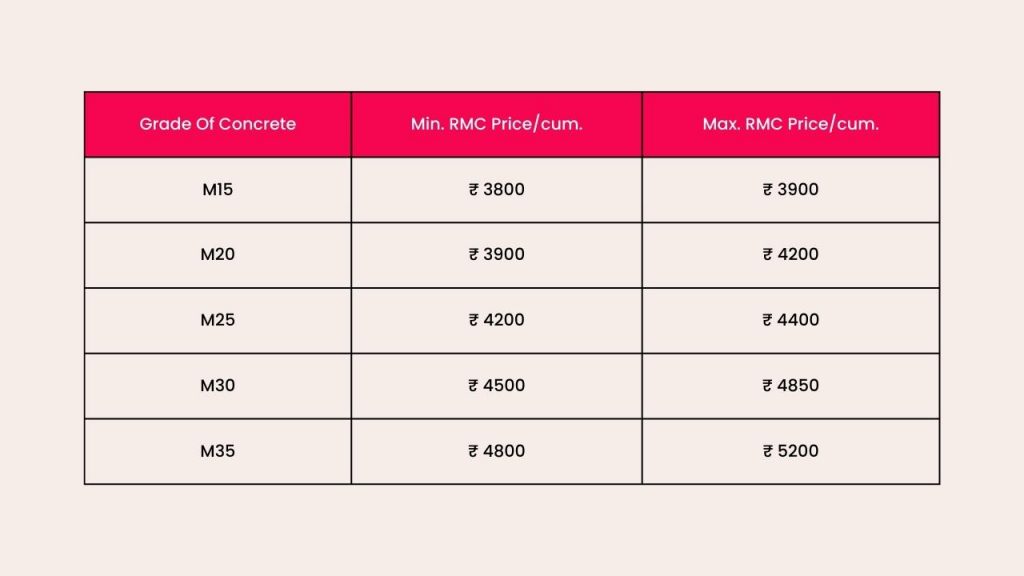 Sand & Aggregate
Sand is mixed with Cement and Aggregate in Concrete to provide bulk and strength to the concrete structure. Sand is a fine particle of broken rock that comes in different types. The average price of sand ranges between Rs 1600 to Rs 3300 per tonne, and the approximate consumption of sand in the building is around 1.8 cubic feet per sqft of built-up area.
The most common types of sand used in construction are as follows:
River sand
Pit sand/ Coarse sand
M sand
Sand price per ton and sand price per kg is shown in the table below.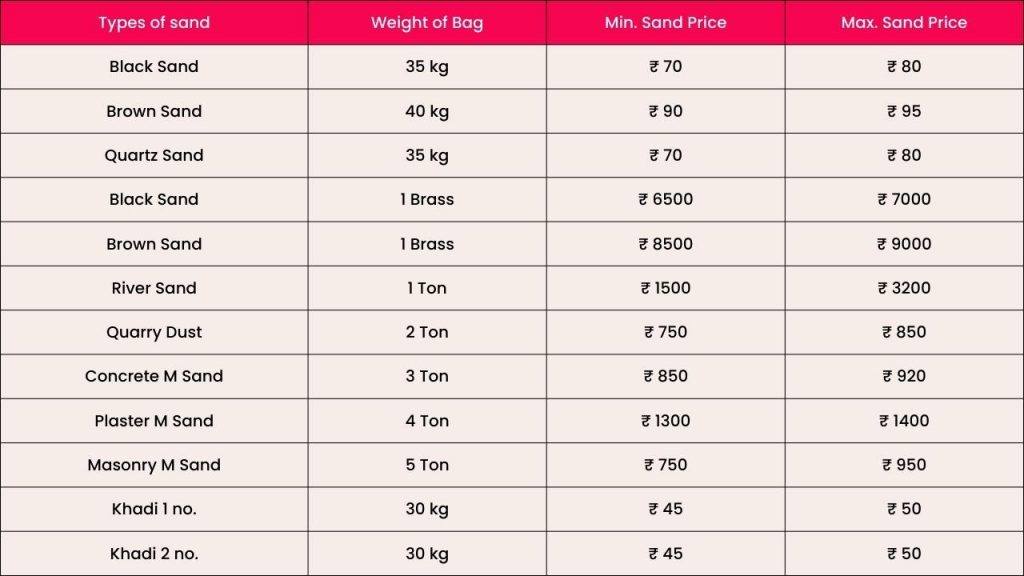 The building material pricelist for coarse Aggregate of 10mm, 12mm, 20mm, and 40mm are shown below. 20mm aggregate price is Rs. 800 per Tonne. You can find the detail of all aggregate prices in the table below.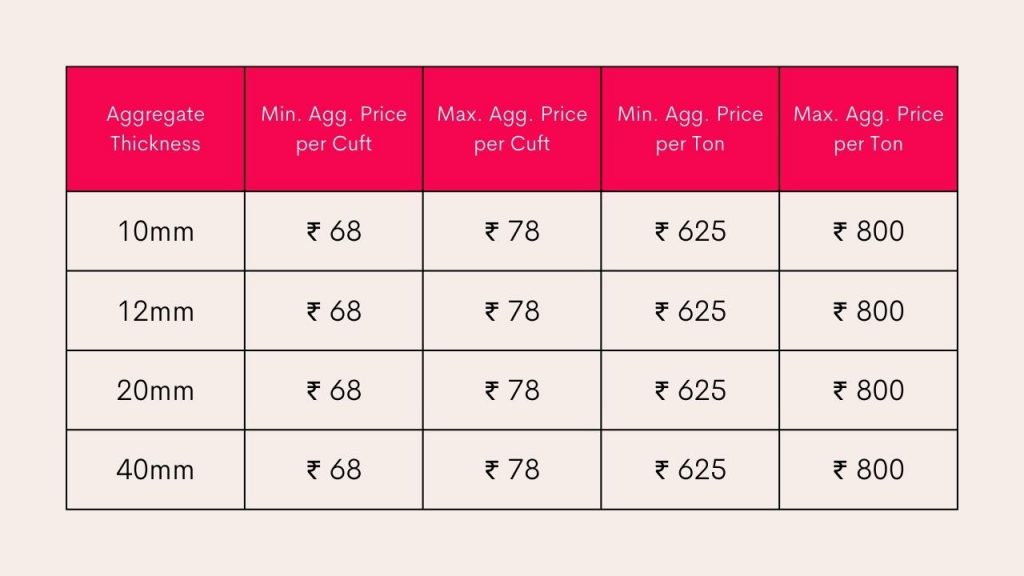 Steel Bars
Steel is an iron and carbon alloy with small amounts of other elements such as manganese, chromium, and nickel. Steel is widely used in construction due to its strength, durability, and versatility. The most widely used steel product in construction projects is TMT Bars.
TMT bars bond with the Concrete to form the RCC structure. TMT bars come in different grades according to Indian standards. The average price of TMT Bar ranges between Rs 45 to Rs 55 per kg & approximate steel consumption in the building is around 4 kg per sqft of built-up area. Commonly used grades of TMT bar steel are as follows.
Fe 415
Fe 415D
Fe 500
Fe 500D
Fe 550
Fe 550D
Fe 600
The minimum and maximum prices of TMT steel bars of different steel companies are shown below. Prices are mentioned in terms of kg and ton.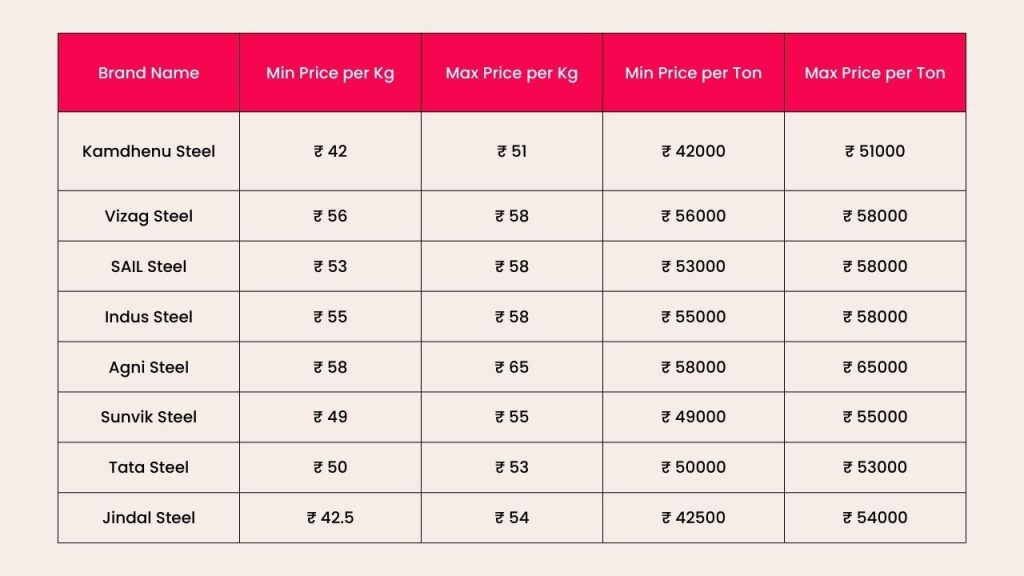 Steel prices for 8mm dia, 12mm, 16mm, 20mm, and 25mm diameter bars are below. Some popular steel brands like Tata, Kamdhenu steel, and Birla steel bar prices are shown.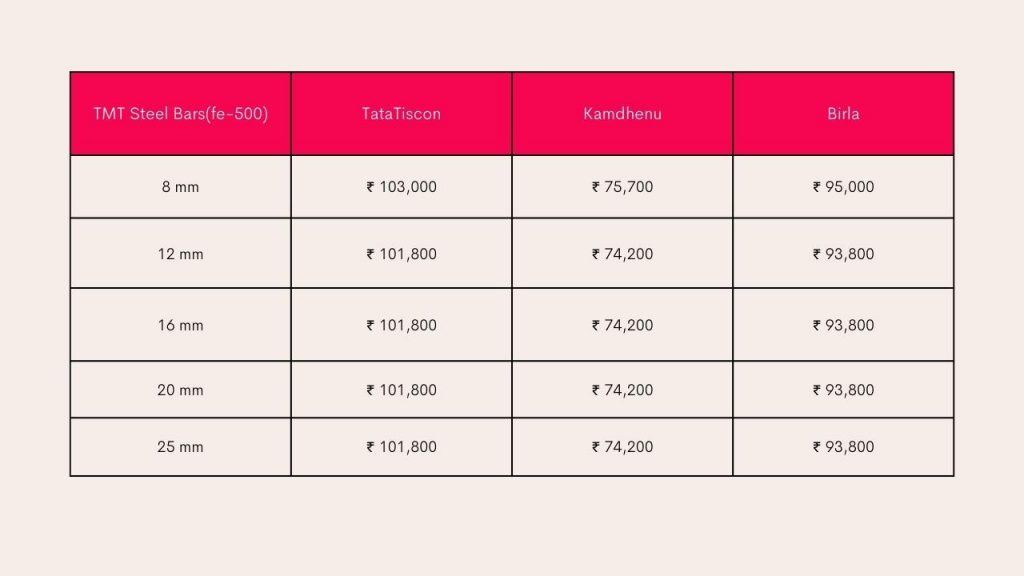 Bricks & Blocks
Bricks and Blocks are the most commonly used construction materials. Bricks are made from clay and come in various shapes and sizes. The average price of bricks ranges between Rs 6 to Rs 10 per piece & Approximately 1.45 bricks are used per sqft of built-up area. Mostly used types of bricks are as follows.
First class bricks
Second class bricks
Third class bricks
Fourth class bricks
The rates of bricks for different sizes and materials like red bricks, fly ash bricks, cement blocks, and AAC blocks are shown below: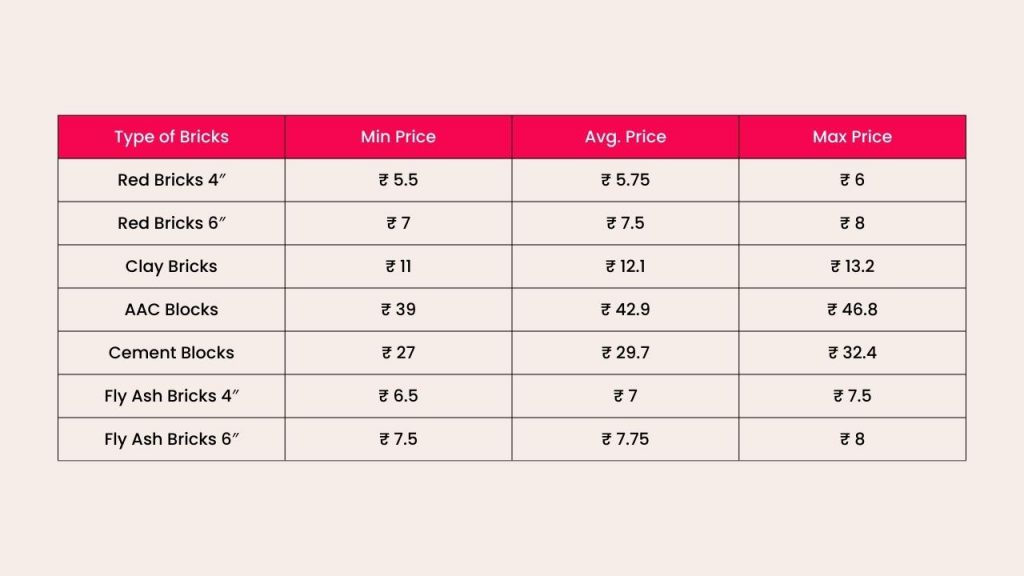 The price of AAC Blocks for different sizes are shown below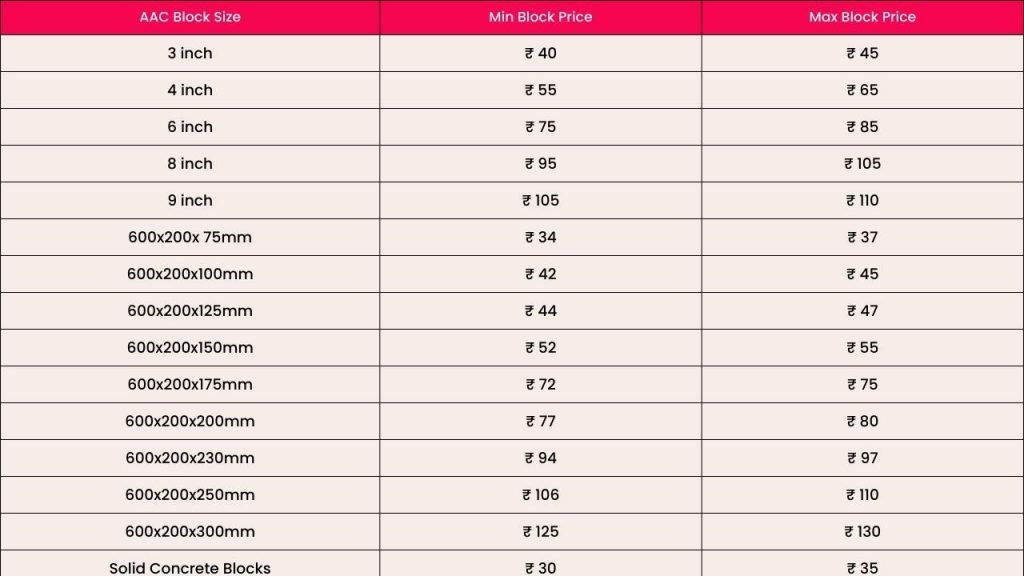 Wood
On average, 30% of wood is used in any construction work. Wood is a naturally occurring material used in construction projects due to its strength, toughness, and durability. Building materials cost for modern home materials are shown here. Prices of different types of wood are shown in the table given below.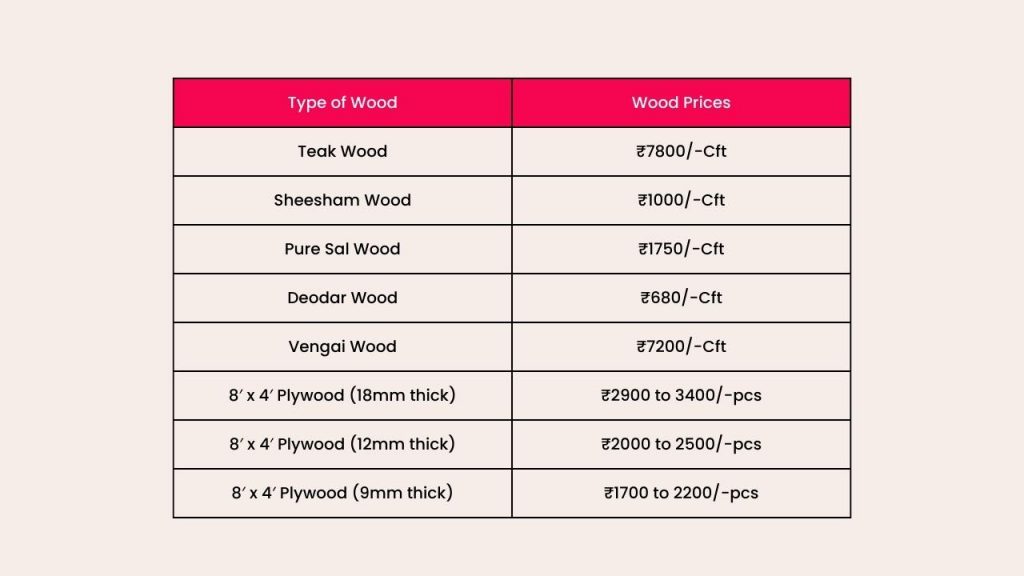 Tiles
Tiles are primarily used for flooring, wall coverings, countertops, and shower enclosures. Tiles can be made from various materials, such as ceramics, natural stones, and other synthetic materials. Tiles are used because of their durability and easy-to-maintain nature.
Prices of tiles like wall, floor, ceramic, vitrified, cement, and other tiles are shown below.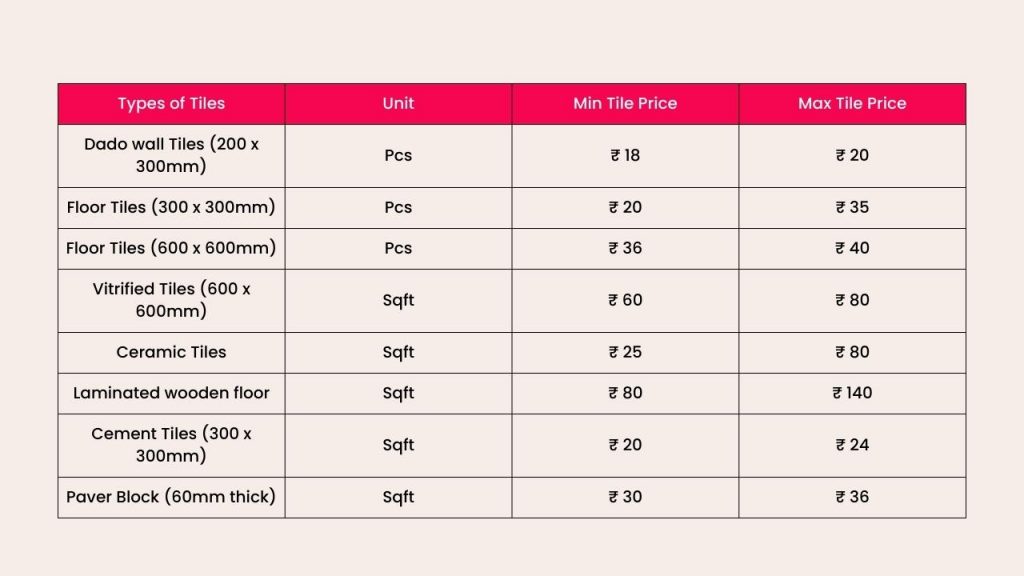 Marbles and granite are quite costly items. Prices of different marble and granites are shown below.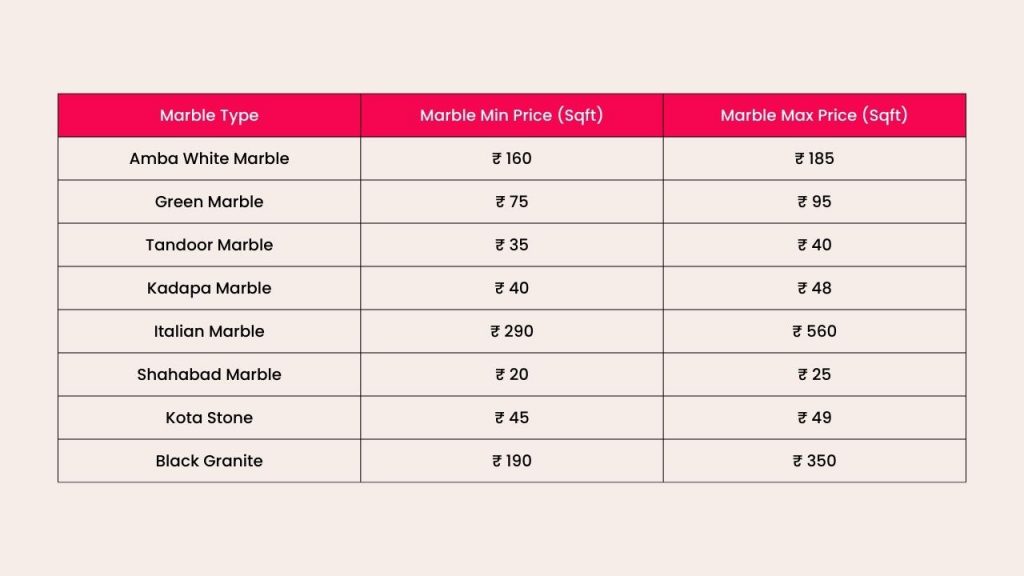 Electrical
Electrical appliances such as wires, fitment, switches, sockets, MCBs, fans, and lights are essential for any modern structure. Electrical works cover 3 to 5% of the total material cost. Prices of different essential electrical items are shown below.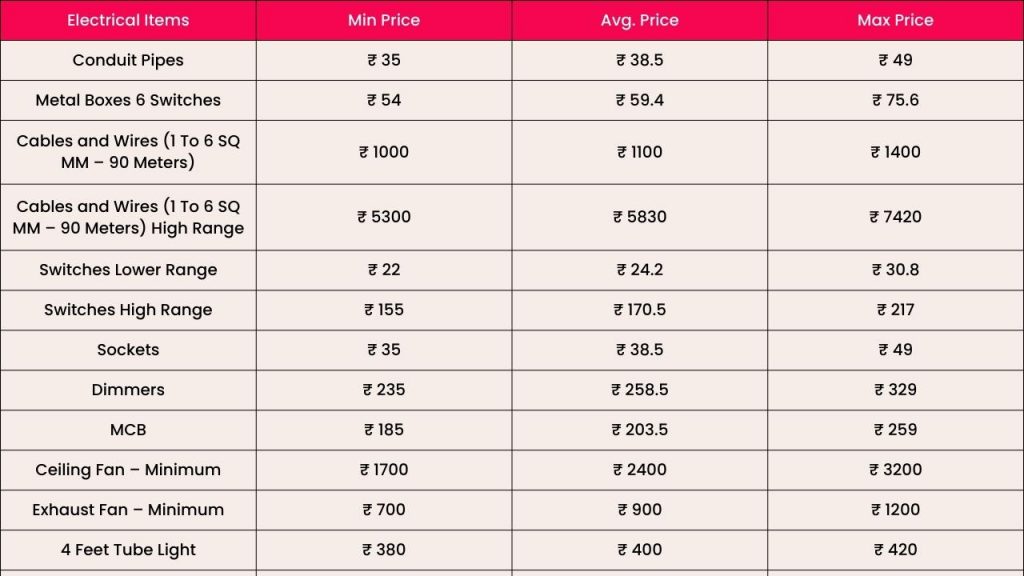 Plumbing
The most common material used in plumbing works is pipes. Plumbing pipes and fittings come in different materials like plastic, GI, and Brass. The following table shows the prices of some of the most popular plumbing pipe types.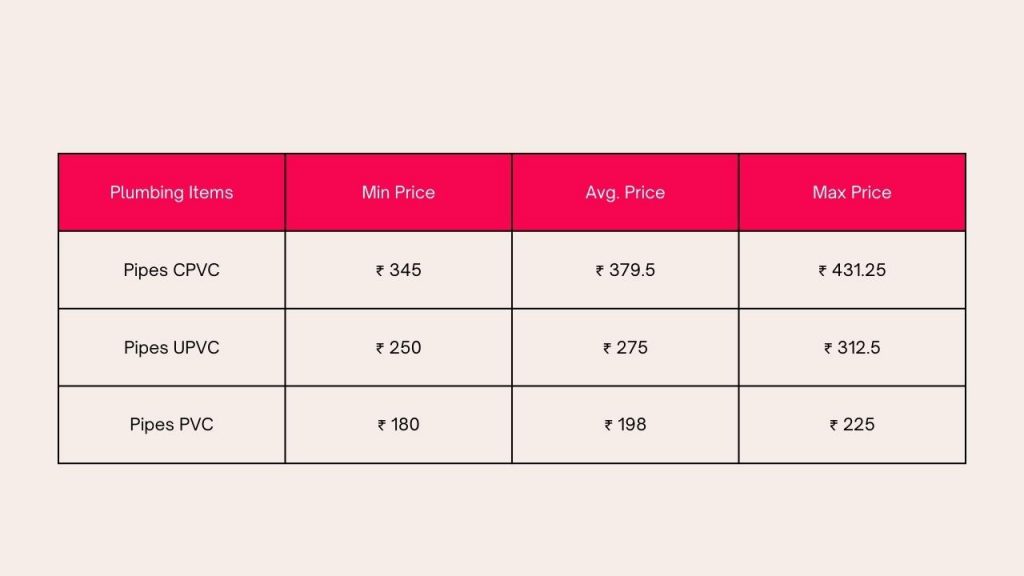 Paint
Paint is used for both its functional & Aesthetic benefits. Paint is used to provide a protective layer to the surfaces of a structure. Paint protects the structure from weathering, moisture, and other environmental factors. Paint also protects the surface from damage done by rust and corrosion. The average paint consumption for interior works is 0.14 liters per sq. ft. and 0.4 liters per sqft for exterior paints. The price of different types of paints is shown below.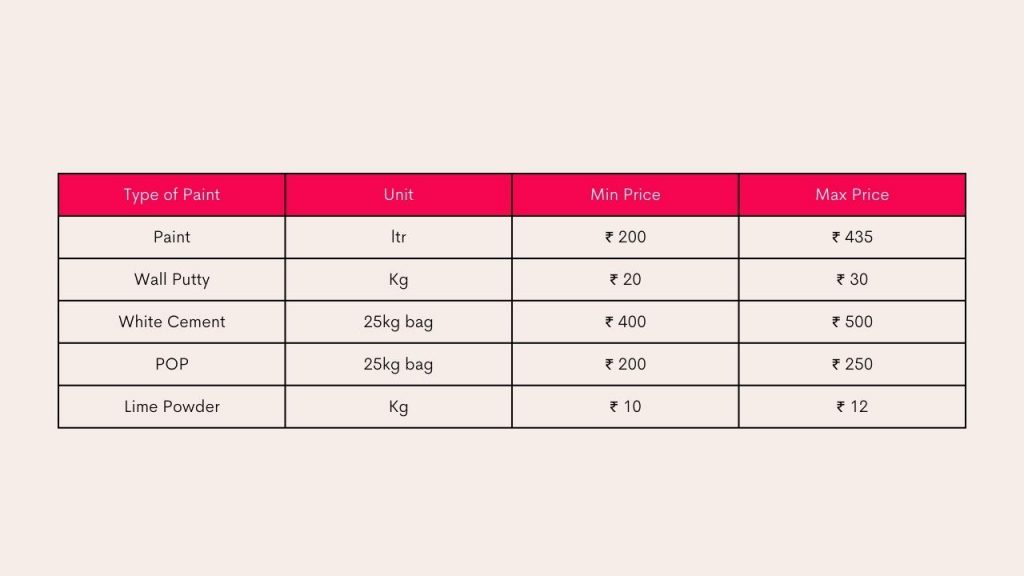 Glass
Glasses are used for structural use as well as for decorative purposes. Glasses are mainly used for window panels and doors. Glass comes in different types and shapes. The prices of different types of Glasses are shown below in the table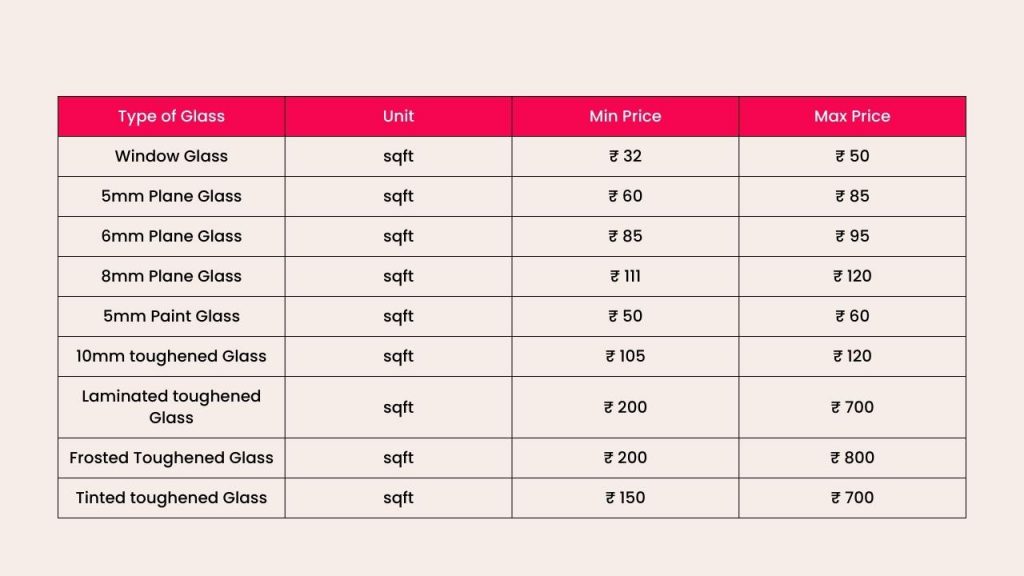 Conclusion
In conclusion, the rates of building materials used in construction can vary greatly depending on factors such as availability, quality, and location. Understanding these rates is crucial for both builders and buyers alike to make informed decisions and ensure cost-effective construction projects.
Try Onsite, #1 Tool For Site Tracking