E-procurement India | Find Latest Construction Tenders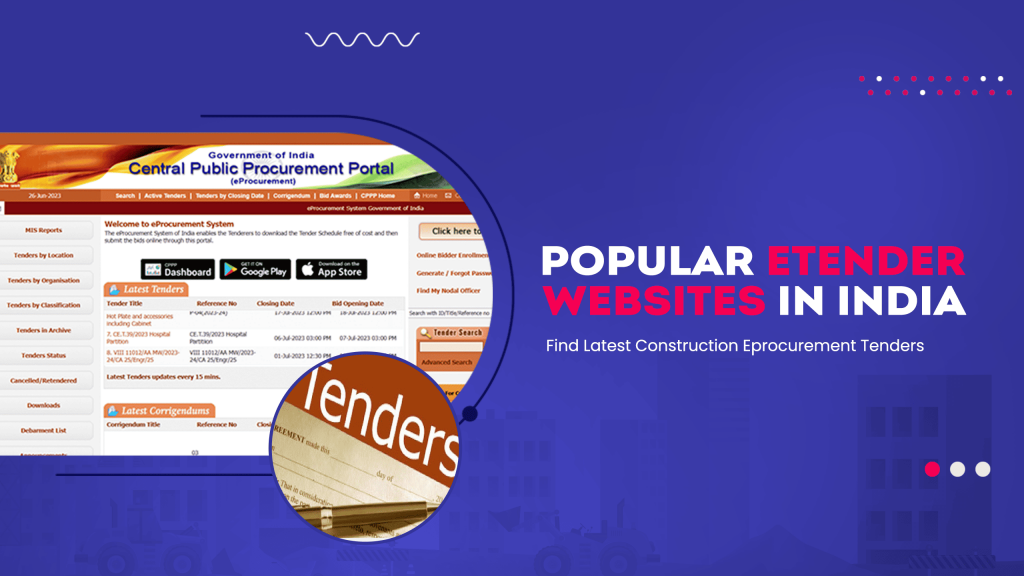 Government bids provide huge commercial prospects for Indian entrepreneurs and businesses. These tenders enable people and organizations to provide the government with goods, services, and infrastructure in a variety of industries. However, without the right advice, locating and accessing these rich possibilities can be difficult. In this blog, we will look at the important eprocurement India portals in India that can assist you in discovering and participating in tendering procedures, allowing you to capitalize on these possible business opportunities.
Government Tenders in India
In India, government tenders are invitations or requests for proposals (RFPs) issued by various government departments, ministries, and organizations for procuring goods, services, or construction projects. These tenders provide opportunities for businesses, contractors, and individuals to bid and compete for government contracts.
The departments in India that release government tenders span various sectors and levels of government, including:
Central Government: This includes ministries, departments, and public sector undertakings (PSUs) under the central government's jurisdiction, such as the Ministry of Railways, Ministry of Defence, Central Public Works Department (CPWD), and others.
State Government: Each state in India has its own government departments that release tenders specific to that state. These can include departments like the Public Works Department (PWD), State Electricity Boards, Health Department, Irrigation Department, and more.
Municipal Corporations: Municipal corporations or local governing bodies of cities and towns issue tenders for infrastructure development, maintenance, waste management, and other related services.
Defense and Military: Entities like the Defense Research and Development Organization (DRDO), Indian Army, Indian Navy, and Indian Air Force release tenders for defense-related projects, equipment, and services.
Public Sector Undertakings (PSUs): PSUs such as Bharat Heavy Electricals Limited (BHEL), Oil and Natural Gas Corporation (ONGC), National Thermal Power Corporation (NTPC), and others release tenders for various projects, supplies, and services.
Websites to Find Latest India E-Procurement Tenders
1- GEM
Website: https://gem.gov.in/
The Indian government made the Government e-Marketplace (GeM), an online tool that is easy to use to help the government buy things. GeM is a way for all government departments and groups to buy goods and services through a single system. It has a wide range of goods and services in many different categories, such as electronics, furniture, vehicles, office supplies, and more. By signing up for GeM, companies can bid on contracts with government agencies and win them. The tool makes sure that the tendering process is open, quick, and efficient and gives all vendors the same chances.
2- Central Procurement Portal for the Public Sector (CPPP)
Website: https://eprocure.gov.in/eprocure/app?page=FrontEndTendersByOrganisation&service=page
The Central Public Procurement Portal (CPPP) is another important place for Indian government bids. It is a place where public sector organizations can post their tenders and where sellers can sign up to bid. CPPP includes a wide range of areas, such as infrastructure, health care, education, agriculture, defense, and the environment. It tells you everything you need to know about tender notices, documents, pre-bid meetings, and the findings. By keeping an eye on the CPPP on a daily basis, businesses can find tender opportunities that match their skills and interests. This gives them a competitive edge when trying to get government contracts.
3- State Tender Portals
India's state governments also have their own tender websites that are separate from the central portals. These sites are where government tenders for each state are posted. Through these portals, businesses can find chances in fields like construction, public works, transportation, and different government services.
State-specific tender sites make sure that local businesses have fair access to government contracts and encourage regional growth. The e-Procurement websites of Maharashtra, Karnataka, Tamil Nadu, and other states are all examples of state government tender portals. By looking at these portals, business owners can find and apply for tenders in their goal regions.
Here are a few State Tender Portals:
Mahrashtra: https://maharashtra.nextprocure.in/
Karnataka: https://eproc.karnataka.gov.in/eprocurement/common/eproc_tenders_list.seam
Tamil Nadu: https://tntenders.gov.in/nicgep/app
Delhi: https://govtprocurement.delhi.gov.in/nicgep/app
More Websites for State-Wise Tenders
Mahrashtra: https://onsiteteams.com/latest-construction-tenders-for-maharashtra-e-procurement-tenders/
Karnataka: https://onsiteteams.com/tenders-in-karnataka/
Tamil Nadu: https://onsiteteams.com/tenders-in-tamilnadu/
Delhi: https://onsiteteams.com/latest-construction-tenders-for-delhi-e-procurement-tenders/
4- Websites of Public Sector Undertakings (PSUs)
Public Sector Undertakings (PSUs) are businesses or companies owned by the government that often put out bids for goods, services, and building infrastructure. Many PSUs have websites where they post requests for bids. These websites have a lot of useful information about future projects, tender notices, eligibility requirements, and deadlines for submitting bids. Companies can find tenders put out by PSUs and take part in them by regularly checking PSU websites linked to their business domains. This lets them take advantage of the chances offered by PSUs, which are known in the market for being stable and trustworthy.
(I) NTPC
India's largest power generator, NTPC Limited, focuses on integrated power operations and renewable energy. With 71,594 MW, it wants to be a global powerhouse. NHPC develops Indian hydro, tidal, and wind power projects.
You can find the NTPC Tenders here: https://eprocurentpc.nic.in/nicgep/app
(II) NHPC
NHPC, founded in 1975, generates clean, cheap power from India's hydro, tidal, and wind resources. It helps develop these renewable energy sources from research to operation and maintenance. NHPC, a government-owned enterprise, is one of India's top 10 investment enterprises with an authorized share capital of Rs. 5,000 crores.
You can find NHPC Tenders here: www.nhpcindia.com
(III) REC
The 1969-founded REC funds rural electrification in India. It powers villages, pump sets, rural industries, and homes. REC improves rural electricity infrastructure and promotes renewable energy.
You can find REC Tenders here: https://recindia.nic.in/tender_list.php
(IV) NEEPCO
Established in 1976 to exploit North Eastern Region electricity potential. It provides 2057 MW of hydro, thermal, and renewable energy to the region.
You can find NEEPCO Tenders here: https://neepco.co.in/tender
(V) PFC
PFC, founded in 1986, is a development financing institution focused on power sector growth. It funds power utilities and encourages worthy projects.
You can find PFC Tenders here: https://www.pfcindia.com/Tenders
(VI) Power Grid
Founded in 1989, it operates regional and national power networks in India. Over 31,000 ckt kilometres of high-availability transmission lines have been added.
You can find the Power Grid Tenders here: https://apps.powergrid.in/pgciltenders/u/view-published-tender.aspx
(VII) SJVN
A joint venture between India and Himachal Pradesh generates power and auxiliary services. It has hydro, thermal, and renewable energy projects and is diversifying.
You can find the SJVN Tenders here: https://sjvn.nic.in/tender-notice/97
(VIII) THDCIL
THDCIL constructs and operates power plants. Its 4516 MW portfolio includes hydro, thermal, wind, and solar projects.
You can find THDCIL Tenders here: https://www.thdc.co.in/en/tenders
(IX) POSOCO
Government-owned POSOCO runs national and regional load dispatch facilities. It manages the power supply, secures the power grid, and integrates renewable energy.
You can find POSOCO Tenders here: https://posoco.in/side-menu-pages/tenders/
Conclusion
Indian firms have many attractive opportunities on government tender portals. Entrepreneurs and corporations can find tender announcements and bidding processes on GeM, CPPP, state government tender portals, and PSU websites. To win government contracts, keep up with tenders, thoroughly assess eligibility criteria, and write persuasive bids. Government tenders boost corporate growth, credibility, and revenue. Use these websites to find opportunities and succeed in government procurement.

People also search for: bhel eproc, cppp eprocurement, etender India, eprocure ntpc, sjvn tender portal, nhpc tender location wise, defence eprocurement portal, eproc Maharashtra, state & local eprocurement, government construction tenders