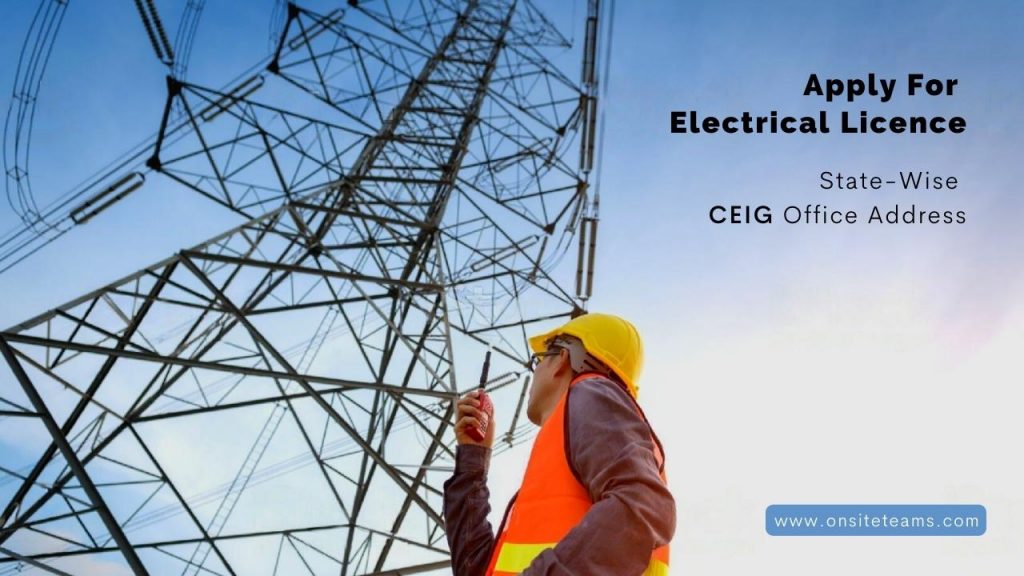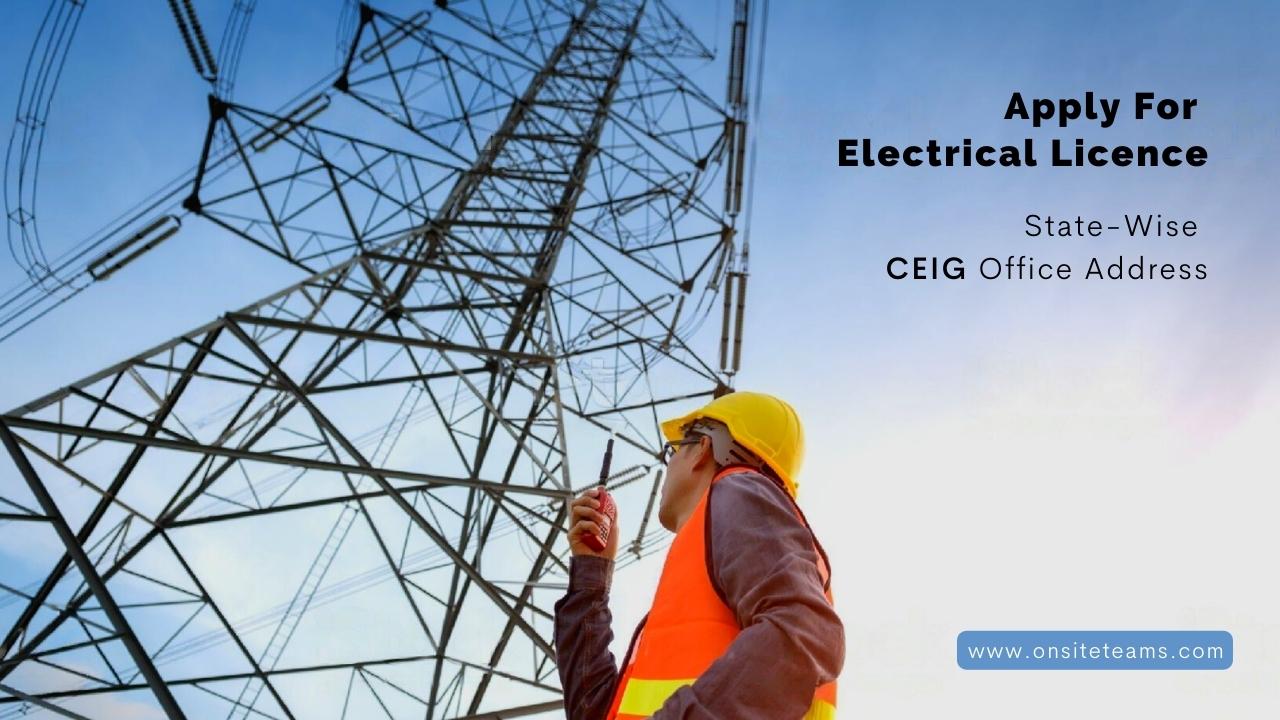 If you want to apply online for an Electrical license then here is the list of State-wise CEIG office address, these are government-recognized websites where you can apply for licenses and find other important information regarding Electrical License Application.
State-Wise CEIG Office Address
State
Address
Andra Pradesh
16th, 1st Ln, Brodipet, Guntur, Andhra Pradesh 522002
Arunachal Pradesh
C Sector, Papum Pare, NH52A, Itanagar Main Road, Itanagar, Itanagar, Arunachal Pradesh 791111
Assam
4QPQ+MJH, Basisthpur, Guwahati, Assam 781038
Bihar
J46H+49P, Veerchand Patel Road Area, Patna, Bihar 800021
Chhattisgarh
5Q4W+QCC, Unnamed Road, Sector 19, Kotara Bhantha, Atal Nagar-Nava Raipur, Chhattisgarh 492101
Goa
GR2G+876, Vidyut Bhavan, Panaji, Goa 403001
Gujrat
Block No.17, 7th Floor, Udyog Bhawan, Gandhinagar-382011
Haryana
SCO NO 117-118, Top Floor, Sector 17-B, Chandigarh-160017
Himachal Pradesh
SDA COMPLEX, BLOCK No.29 KASUMPTI, SHIMLA-171009
Jammu & Kashmir
PV8Q+97P, Transportnagar, Jammu, Jammu and Kashmir 180006
Jharkhand
Electrical Inspectorate Office, Energy Department, Govt. of Jharkhand, Near Nepal House, Doranda Ranchi, Jharkhand
Karnataka
No.2/2 & 2/4, Aragini Bhavan, 1st floor, Dr Rajkumar Rd, Rajajinagar, Bengaluru, Karnataka 560010
Kerela
Office of the Chief Electrical Inspector Housing Board Building, Shanti Nagar Thiruvananthapuram
Madhya Pradesh
A-Wing, 3rd Floor, Satpura Bhawan, Bhopal
Maharashtra
Office of the Chief Electrical Inspector, I.E.&L. Department, Administrative Bldg., 3rd Flr., Ramkrishna chemburkar marg, Chembur (E) Mumbai 400071.
Manipur
Electricity Complex, Keishampat Junction, Imphal-795001, Manipur
Meghalaya
Horse Shoe Building, Lower Lachumiere, Shillong – 793 001, East Khasi Hills District, Meghalaya.
Mizoram
POWER & ELECTRICITY DEPARTMENT Kawlphetha Building, New Secretariat Complex, Khatla, Aizawl Mizoram,
Nagaland
M456+348, A.G. Colony, Kohima, Nagaland 797005
Orrisa
OERC Plot No.4, Chunokoli, , Shailashree Vihar, Chandrasekharpur, Bhubaneswar-751021
Punjab
Near Govt. Girls Senior Secondary School, New Power House Colony, Patiala 147001, Punjab, India
Rajasthan
Office of the Senior Electrical Inspector F-55, Krishna Marg Nandpuri, 22 Godam, Jaipur-302001
Telangana
Office Address: The Chief Electrical Inspector to Government, Flat No.127 Block No.7, New MLA Quarters, Adarsh Nagar, Hyderabad
Tripura
R7RM+7XG Tripura State Electricity Corporation Limited, Banamalipur, Indranagar, Agartala, Tripura 799001
Uttar Pradesh
Vibhuti Block-2, Gomti Nagar, Lucknow-226010
Uttarakhand
मुख्यालय पंचायत घर, निकट हीरा कॉन्वेंट स्कूल, बड़ी मुखानी
हल्द्वानी नैनीताल -263139
West Bengal
Annex Building – III, 6th & 7th Floor
Commercial Tax Building Complex,14,Beliaghata Road, Kolkata-700015.
Ladakh
Electric M &RE Division,Choglamsar, Leh-Ladakh, J&K, 194101
Delhi
36, Sector 5, Rama Krishna Puram, New Delhi, Delhi 110066
Chandigarh
PQVQ+248, 17B, Sector 17, Chandigarh, 160017
Puducherry
No 137, Netaji Subhash Chandra Bose Salai ( Gingee Salai ), Duppuypet, Puducherry, 605001
Andamaan & Nicobar Island
Office of Executive Engineer, Division (Behind Ganesh Temple), Electricity Department Pratrapur
Port Blair – 744105.
Daman & Diu and Dadra & Nagar Haveli
9RXJ+9PG, Main Rd, Moti Daman, Daman, Dadra and Nagar Haveli and Daman and Diu 396220

More About Electrical Licence
An electrical license is essential for contractors as it helps you in getting new employment opportunities, before applying a contractor should always check his project's requirement or the nature of the work which he or she has to do.
Types of Electrical Licence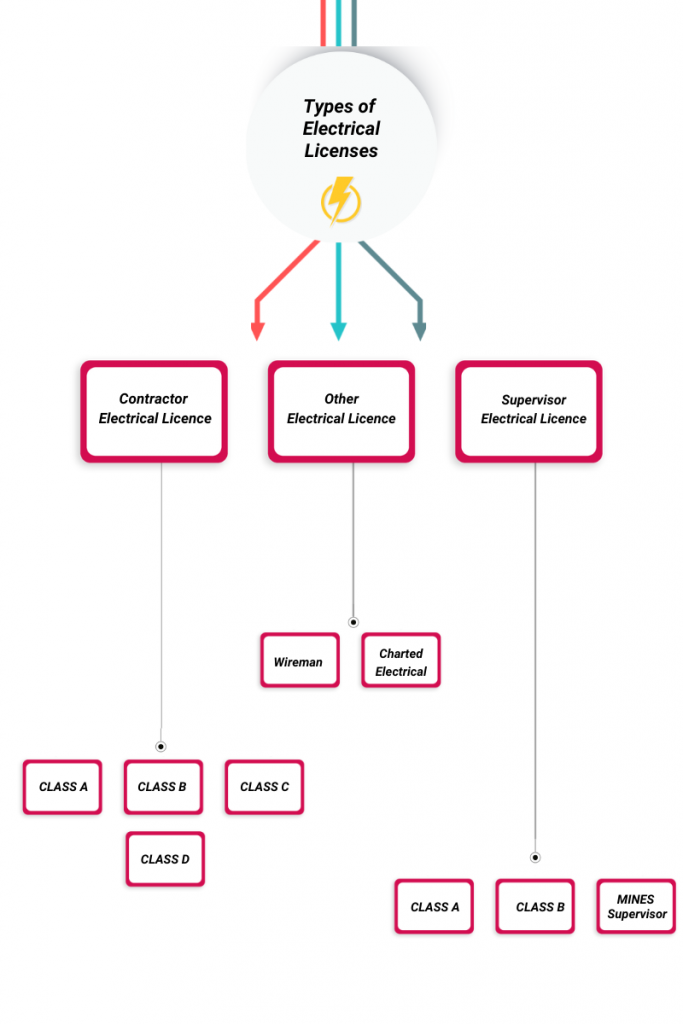 Also read: Types of Electrical License & its Eligibility Criteria
You can learn more about electrical license by watching the following video on our Youtube channel-
People also search for: chief electrical inspector delhi address, electrical inspector office delhi, chief electrical inspector office, ceig approval, electrical inspector office near me, chief electrical inspector license, chief electrical inspector office bangalore
Related Articles for You: