Top Suppliers for Construction Materials in Pune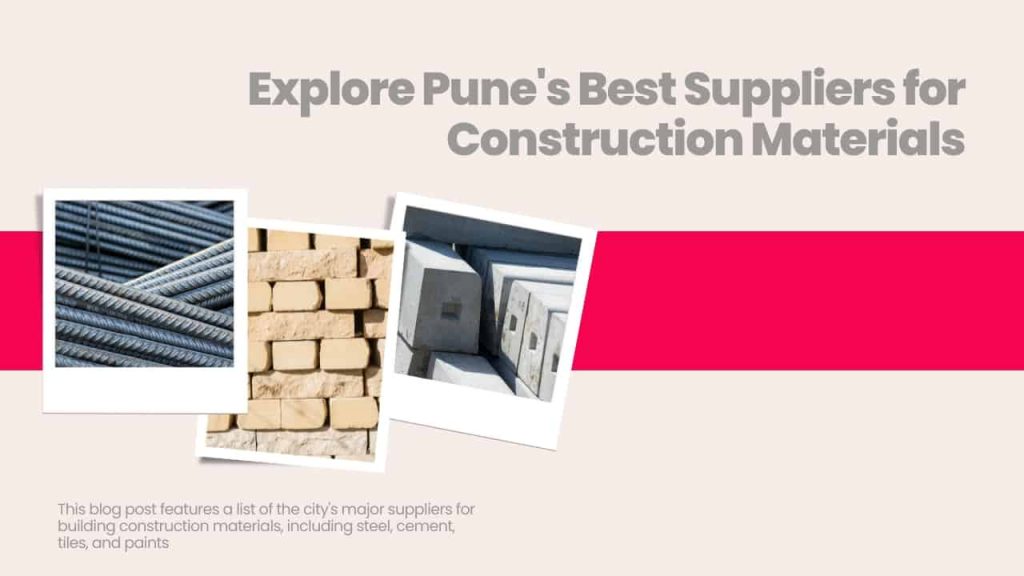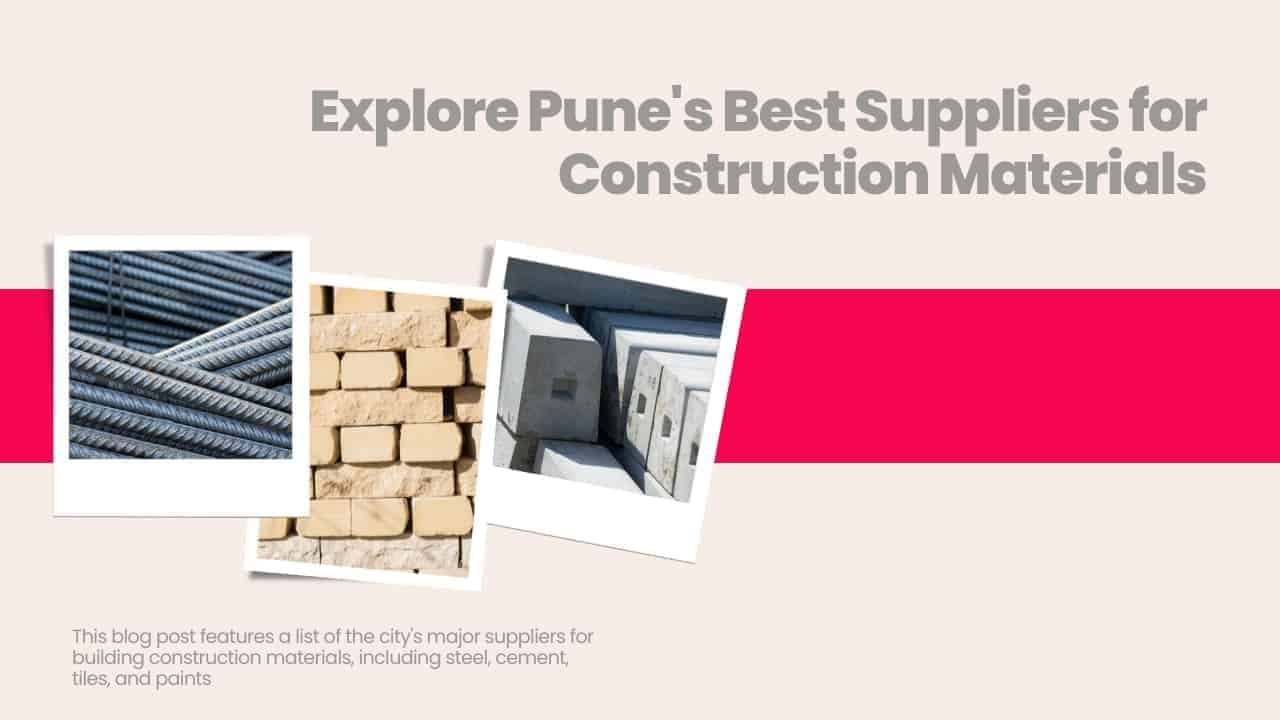 Several major suppliers provide a wide range of construction materials that are essential for the success of any project. Builders and contractors in Pune can access high-quality steel, cement, tiles, paints, and other materials through these suppliers. This blog post aims to explore some of the major supplier for construction materials in Pune, emphasizing their specializations and addresses. After reading this post, you'll be equipped with a better understanding of the available suppliers and be able to find the right supplier for your specific needs.
Major Cement Suppliers
Sadguru Krupa Production – 158/2 Sanghavde Road & Puna Bombay Highway, Jambhe, Pune – 411033 (Behind Kolte Patil Project Near SAI Petrol Pump & Marunji Jambhe Goan City Behind Dinesh Shitole Bu)
Patel Agencies – Plot No 42/1, Shivaji Nagar, Pune – 411005 (Behind Patel Tiles and Behind Shivajinagar S T Stand)
N.B.Shaikh -Sangarsh Chowk, Pune Nagar Road, Chandan Nagar-Kharadi, Pune – 411014 (Near Ghorpade Hospital)
Chavan Enterprises – Paud Road, Kothrud, Pune – 411038
Saste Traders – Nighoje Gaon, Taluka Khed, Chakan, Pune – 410501 (Near Mahadev Mandir)
Major Steel Suppliers
S Mahipal Steel – J-7 Block J, Bhosari Industrial Estate, Pune – 411026 (Near Masala Kata MIDC)
S P Traders – Survey No 168, Satyapuram Society, Saswad Road, Hadapsar, Pune – 411028 (Opposite IBM Company)
Om Iron House Baner – Survey No175/2, Baner, Pune – 411045 (Opposite Baner Shamshanbhoomi Landmark Jupiter Hospital)
Ghule Steel Traders – Ghule Steel Traders Opp. Ho Petrol Pump Agar Khore, Junnar-Narayangaon Road, Junnar, Pune – 410502 (Opposite HP Petrol)
Varun Engineers – 262 Swojas Apartment, Shukrawar Peth, Pune – 411002 (Near Sanghvi P D Sales)
Major Paint Suppliers
Paintwell Industries– Survey No 126, Pune Mumbai Bypass Highway, Katraj, Pune – 411046 (Datta Nagar)
ZEMAX PAINT– Gat No.87 Plot No 14, Near NTL Weight Bridge Jyotiba Nagar Talwade, Talawade, Pune – 412114
Shubh Neel Chemicals – S Block J 33, Bhosari Industrial Estate, Pune – 411026 (Near Century Enka Ltd)
Leader Paints Marketing – Shop No 1 Vinayak Apartment, Narayan Peth, Pune – 411030 (Patraya Maruti Chowk Near Modi Ganapati)
Rudra Painting Works – F-101, Sukhwani Sapphire 249/2A, Chinchwad, Pune – 411033 (Golande Esate)
Major Plumbing Suppliers
S K Ceramics – Phursungi Gaon Road, Hadapsar, Pune – 411028 (Next to Royal Lodge, Near Masoba Mandir)
Shreeji Ceramic – Sr. No. 294/95, Keshav Nagar Chinchwad Road, Chinchwad, Pune – 411033 (Near Kalewadi Bridge)
Lunawat Hardware – S No 191, Airport Road, Yerawada, Pune – 411006 (Nagpur Chawl Opp Jail Wall)
Deepak Engineering – Sr No 336 B, Shinde Ali, Shukrawar Peth, Pune – 411002 (Near Satish Misal Office)
Atul Enterprises – Shop No 7 Navkar Tower, Chafekar Chowk Road, Chinchwad, Pune – 411033 (Near Juna Jakat Naka Near PNG Jewellers)
Major Bricks Suppliers
Aruna Enterprises – Sr No 65/2/2, Jambhe Road, Punawale, Pune – 411033
Shree Samarth Building Material Suppliers – Sr No. 210/2, Viman Nagar, Pune – 411014 (Near Gangapurush Society)
Chintamani Enterprises – S.No.222/5A, Bhosari, BHOSARI DIGHI RD, Bhosari, Pune – 411039 (Near Sant NIrankari Bhavan)
Gowardhan Sales Corporation Pvt Ltd – Sr. No 183, Pune Saswad Road, Fursungi, Pune – 412308 (Infront Of Fursungi Power House)
Jay Malhar Enterprises – Uttam Nagar, Main Road, Mandvi Budruk, Pune – 411023
Also Read: Types of Bricks used in Construction & Latest Brick Rates
Important Factors to Consider when Purchasing Construction Materials
Quality: The quality of the materials is crucial for the durability, strength, and longevity of the building. Choose high-quality materials that meet the required building codes and standards.

Cost: Consider the cost of the materials and look for options that offer good value for money. However, do not compromise on quality as choosing cheaper materials of lower quality can lead to increased costs in the long run.

Availability: Ensure that the materials you choose are readily available in the market, especially if you have a tight timeline for the construction project.

Sustainability: Consider the environmental impact of the materials you choose. Look for sustainable, renewable, and eco-friendly materials and avoid those that are harmful to the environment.

Compatibility: Ensure that the materials you choose are compatible with each other and with the building's design and structure. For instance, the roofing materials should be suitable for the roof design, and the foundation materials should be appropriate for the soil type.

Maintenance: Choose materials that are easy to maintain and repair, as this will reduce long-term costs and ensure the building remains in good condition.

Safety: Ensure that the materials you choose meet the required safety standards and regulations. For example, use fire-resistant materials in areas prone to fire hazards, and use materials that are strong enough to support the weight in load-bearing structures.
Conclusion
To sum up, the construction industry in Pune is expanding rapidly, and there are numerous suppliers of building construction materials in the region. With a diverse market, including both established companies and local dealers, it's crucial to conduct comprehensive research and select a trustworthy supplier who can provide high-quality materials at a reasonable price, with excellent customer service and punctual delivery. By taking into account the factors discussed in this article and collaborating with a reliable supplier, builders and contractors can ensure the success of their construction projects and the satisfaction of their clients.
Try Onsite, #1 Tool For Site Tracking
People also search for: building construction materials supplier, aruna enterprises keshav nagar, heavy machinery supplier pune, building material suppliers in pune, building material suppliers pune, building construction materials list, dinesh builders hardware, s p traders phursungi photos, load bearing construction cost in pune, building materials supplier