How to Successfully Bid for Government Tenders: Tips and Strategies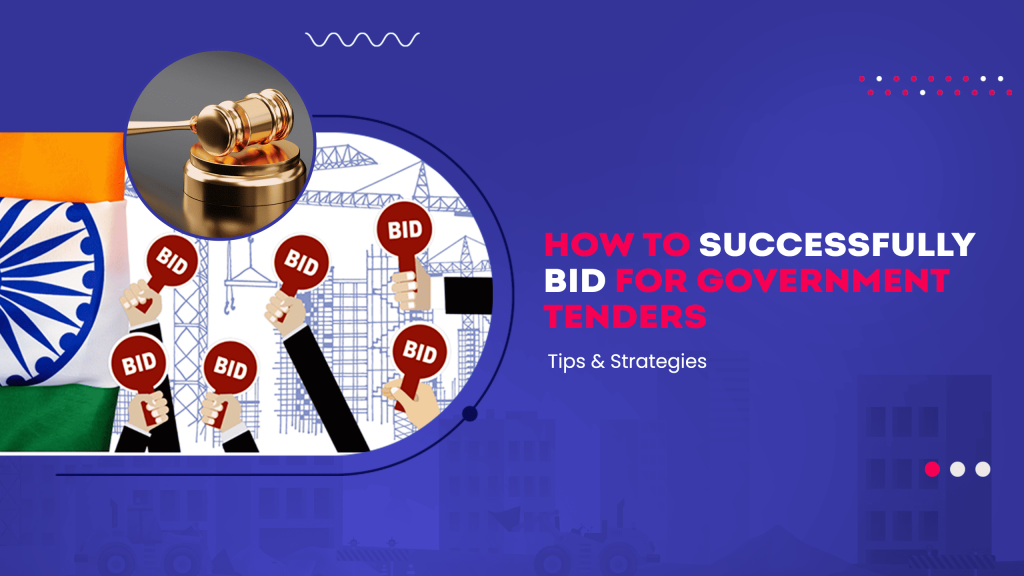 Businesses have a significant advantage when it comes to securing new contracts and expanding their operations when they participate in government bids. However, the process of bidding can be complicated and competitive, and it frequently gives an advantage to those who have previous experience. In this article, we will discuss some of the most important techniques and strategies that can significantly improve your chances of obtaining government tenders and expanding your business.
Government Tenders in India
In India, government tenders are invitations or requests for proposals (RFPs) issued by various government departments, ministries, and organizations for procuring goods, services, or construction projects. These tenders provide opportunities for businesses, contractors, and individuals to bid and compete for government contracts.
Government tenders serve as a transparent and competitive process for the government to acquire the required goods, services, or projects while promoting fair competition and ensuring value for public funds. The departments in India that release government tenders span various sectors and levels of government, including:
Central Government: This includes ministries, departments, and public sector undertakings (PSUs) under the central government's jurisdiction, such as the Ministry of Railways, Ministry of Defence, Central Public Works Department (CPWD), and others.
State Government: Each state in India has its own government departments that release tenders specific to that state. These can include departments like the Public Works Department (PWD), State Electricity Boards, Health Department, Irrigation Department, and more.
Municipal Corporations: Municipal corporations or local governing bodies of cities and towns issue tenders for infrastructure development, maintenance, waste management, and other related services.
Defense and Military: Entities like the Defense Research and Development Organization (DRDO), Indian Army, Indian Navy, and Indian Air Force release tenders for defense-related projects, equipment, and services.
Public Sector Undertakings (PSUs): PSUs such as Bharat Heavy Electricals Limited (BHEL), Oil and Natural Gas Corporation (ONGC), National Thermal Power Corporation (NTPC), and others release tenders for various projects, supplies, and services.
How to Apply for Government Tenders in India
To apply for government tenders in India, you need to follow these general steps:
Registration: Register on the official government e-procurement portal, such as the Central Public Procurement Portal (CPPP) or respective state government portals. Complete the necessary registration process, which may involve providing business details, digital signatures, and other required documents.
Tender Search: Use the e-procurement portal to search for relevant tenders based on your business area or specialization. You can filter and browse through tenders based on keywords, locations, and other criteria.
Tender Document Review: Download the tender documents and carefully review all the requirements, terms, and conditions. Pay attention to eligibility criteria, technical specifications, financial details, and submission deadlines.
Bid Preparation: Prepare your bid, ensuring that you meet all the specified requirements. This includes submitting required documents, technical proposals, financial details, and any other information requested in the tender document.
Bid Submission: Submit your bid within the specified deadline through the online portal. Ensure that you comply with the submission guidelines and provide all necessary details as per the tender requirements.
Evaluation and Award: After the submission deadline, the government department evaluates the received bids based on various factors such as technical competence, financial viability, compliance with requirements, and other evaluation criteria mentioned in the tender document. The contract is then awarded to the successful bidder.
It's important to note that the specific procedures and requirements may vary depending on the government department or organization releasing the tender. It is advisable to thoroughly read and follow the instructions provided in each tender document and seek clarification if required.
Additionally, it's beneficial to stay updated with the latest tenders by regularly checking the e-procurement portals and subscribing to email notifications or alerts from relevant government departments or agencies.
Also Read: E-Tendering | State wise Eprocurement portals
Tips for Winning Government Tenders
1- Conduct Extensive Research
Carry Out Extensive Study It is essential, prior to beginning the process of accepting bids, to carry out an extensive study on the methods followed by the government in the acquisition of goods and services. Get acquainted with the various kinds of contracts, the actual bidding process, and the evaluation criteria that are used by government agencies.
2- Recognise the Requirements of the Tender
It is essential to have a comprehensive understanding of the particular requirements mentioned in the tender documents in order to make a competitive proposal. Get a good grasp on the nature and extent of the work, as well as the budgetary and time constraints that have been outlined. With this information, you'll be able to tailor your bid in a way that demonstrates your suitability for the project and increase your chances of winning it.
3- Assess the Quality of Your Business
Make sure that your organization has the appropriate credentials and experience to take on the work that has been presented. Evaluate your level of expertise, talents, and resources to determine if you are capable of successfully fulfilling the contract. Your chances of becoming successful will considerably enhance if you can demonstrate your level of expertise and dependability.
4- Create an Enticing Business Proposal
Your bid proposal is your chance to highlight the qualities that make your company stand out from the competition and to persuade the government agency that you are the right choice for the project. Create a proposal that is unambiguous, concise, and convincing by highlighting your one-of-a-kind value offer, your experience in the relevant field, and how you propose to produce the outcomes that are required.
5- Follow the Directions Carefully
When putting in a bid, it is absolutely necessary to pay minute attention to every single detail. Be sure to give careful attention to each and every one of the instructions included in the bid materials. This involves supplying all of the requested documents and information within the time limit and in the format provided. In the event that the requirements are not followed, the participant risks being disqualified.
5- Patience is Essential
The government procurement process can be complex and time-consuming. Even if you do not win your first few bids, it is vital to maintain patience and determination. To better your future success, evaluate and learn from each encounter.
6- Develop Relationships with Government Officials
Developing relationships with government officials can provide valuable insights into their needs and goals. Attend relevant industry events, participate in networking opportunities, and take part in forums to make connections within the government agency you're aiming for.
7- Participate in Government Procurement Events
Attending government procurement events and conferences will help you better grasp the process. These events provide a venue for bidders to receive information, learn from experts, and network with other bidders, potentially leading to collaboration or subcontracting opportunities.
8- Use Government Tenders Portals
Take use of government tenders portals, which provide a centralized platform for contract discovery and bidding. These portals improve the search process by allowing you to locate potential possibilities more effectively and submit bids electronically.
Conclusion
Successfully competing on government tenders involves meticulous planning, strategic thinking, and perseverance. You can boost your chances of getting government contracts by completing thorough research, comprehending tender requirements, qualifying your organization, producing compelling proposals, sticking to instructions, and exercising patience. Networking with government officials, attending relevant events, and using tender portals can all help to expand your opportunities. Your company can thrive in the competitive field of government contracts if you take a well-rounded approach.