How To Make Smart Quotations For Getting More Projects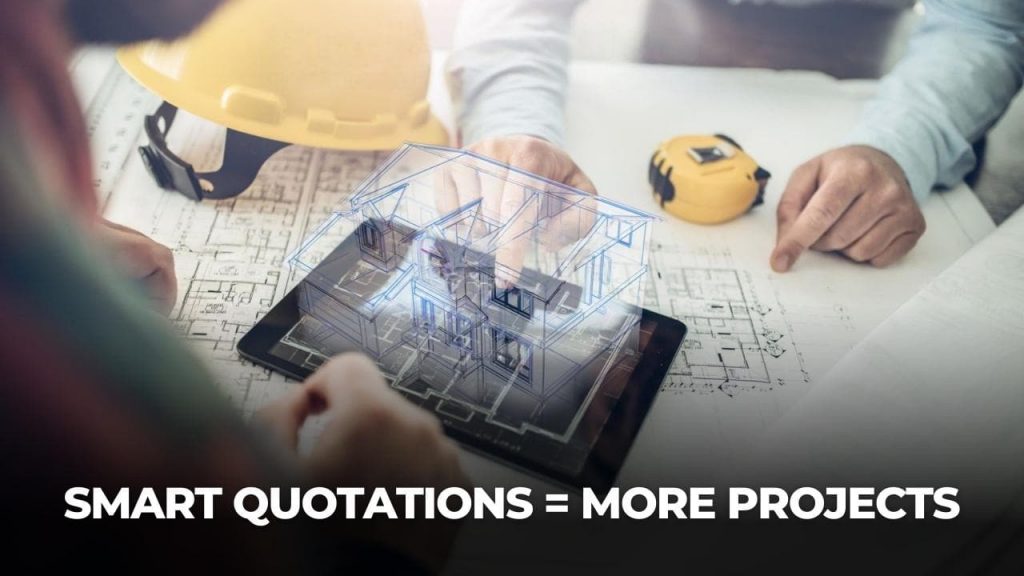 A construction quotation is a document sent by a construction company or firm to their clients for the discussion of the items, materials, and workforce that need to be paid. It is the first formal document presented by a construction work service provider/ contractor to a prospective client. It is very important to get it right.
The preparation of quotations for construction works depends on the type of work to be carried out. Whenever a quotation is required by the client for particular work, they provide the detailed specification of the works to be carried out. Since a Quotation is just an initial list, the items are subject to change depending on factors like the customer's budget, the plans, and the plan changes during the construction planning process.
Tips for Preparing Quotation for Construction Works
1- Quote Quickly
Sending the construction work quotation at the earliest possible time is one of the first things that you should consider. The timing of sending a quotation to your client plays a great role in getting the client's attention. Always try to send the quotation immediately after your first communication with the client.
Even better would be to share the quote in the same first meeting, if possible. You can be prepared to create quotations instantly based on your client's requirements if you are equipped with the right tools for writing a professional quotation.
2- Choose the Right Template
It is important to choose or create a template that is customized for your client. Please make sure you choose a template that is detailed yet simple to understand. It should have clearly defined sections for providing various details of the quotation. Include all the breakdowns and the final costing of the project very clearly.
Once you have finalized the template the next step is to include all the information that you need to provide in your quotation so that your client can quickly understand the quotation and make a decision.
3- Quotations are Better than Estimates
In order to create a smart quotation, you must first understand that quotations are not estimates. Most contractors get confused between these two. Sending a construction work quotation is better than sending an estimate because a quotation is an agreed fixed price and on the other hand an estimate is the approximate price that may change.
With quotation client precisely know what he/she has to spend on the work, so it's always good to share a quotation if possible. Only when you cannot be precise about the cost of a job may you share an estimate.
Read about Estimates in this blog – What are construction estimates & it's importance in tenders
4- Detailed Breakdown & Clear Pricing
Including the work breakdown and clear pricing plan is one of the most important points, that you should consider in order to create a perfect and smarter quotation. You should include every work activity by breaking down the bigger work into smaller activities, this will provide better understandability for the client.
This will also avoid confusion in the future and give your clients peace of mind about what they're getting and at what price.
Conclusion
Make a perfect construction work quotation that is accepted. Making a quotation may appear to be a simple task however just creating the quote is not enough, you have to create smarter quotations for getting more business.
As a builder or a contractor, you need to make sure your timing is correct when you share the construction work quote, ensure timely follow-up and seek written approval or acceptance of the quote when the deal is closed.
Popular FAQs on Construction Quotations
Q1- What is a construction quotation, and how can I create one for my building project?
Answer- A construction quotation is a document that lists the costs for materials, labor, and other items in a building project. Learn how to make a quotation for construction work and create one for your project.
Q2- What factors should I consider when preparing a quotation for construction work?
Answer- When making a construction quote, it's essential to consider project details, client requirements, and budget constraints. What are the key steps to create a construction quotation that meets these criteria?
Q3- How can I send a construction work quotation quickly to a potential client?
Answer- Timeliness is crucial in the construction industry. Discover tips for efficiently sharing your construction quotation with clients to capture their attention.
Q4- What is the difference between a construction quotation and an estimate, and which one should I use?
Answer- A construction quotation provides a fixed price, while an estimate offers an approximate cost that may change. Find out why a construction quotation is preferred for clarity and certainty.
Q5- What are the essential elements to include in a construction quotation for better client understanding?
Answer- To make a construction quote smarter, break down the project into smaller tasks and provide a clear pricing plan. Learn how this benefits both contractors and clients.
Q6- What tools and resources can help me create professional construction quotations?
Answer- Utilize tools and templates customized for construction work to streamline the quotation process and improve professionalism. Where can I find resources for creating construction quotations?
Q7- Why is timely follow-up important after sharing a construction work quotation?
Answer- Timely follow-up ensures that clients receive and review the quotation promptly, allowing for quick decision-making. What are the best practices for following up on construction quotations?
Q8- How can builders and contractors increase the chances of their construction work quotations being accepted?
Answer- To boost acceptance rates, builders should focus on proper timing, clear communication, and obtaining written approval or acceptance when finalizing the deal. What strategies can lead to higher acceptance rates for construction quotations?

People also search for: how to make quotation for construction work, building construction quotation for construction work, construction quotation, how to construction quote, quotation for construction work, building quotation, quotation of construction work, how to make quotation for civil work